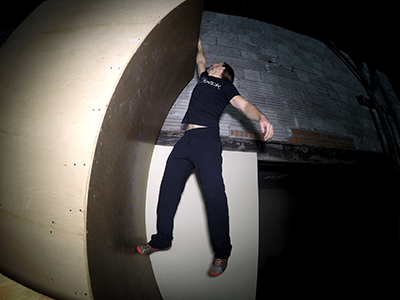 Want to be the next American Ninja Warrior? We'll custom build a themed obstacle course just for you and your friends. They're challenging, but not impossible and you'll have a ton of fun!
Few things are more fun than flinging foam at your buddies in a custom built, fully climbable, urban style arena! Gather your friends and have fun playing games like TDM, CTF, HvZ, and more!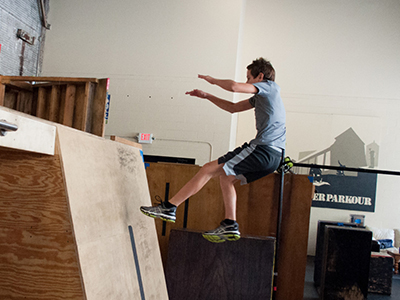 Want to share a unique experience with you and your friends? Our Parkour Workshops are the best around and we can teach you how to balance on rails, swing on bars, and climb up walls!
Book Your Next Party with Us!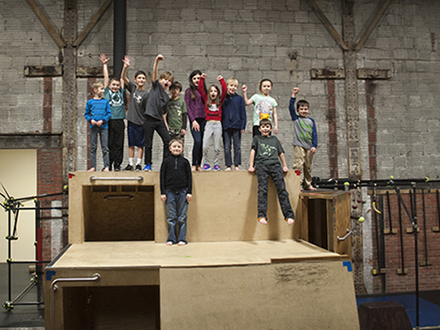 Unleash Your Inner Ninja!
Our Ninja Warrior Themed Parties are simply the best! Every course we design will be custom tailored to you or the demographic of your choosing and will be equal parts fun and challenging. No two courses we've designed are the same, however, you can be sure that our cannonballs and grip trainers, ropes, warped wall, quad steps, and spider climbs will find their way into each one.
These parties normally begin with a quick introduction of the instructor(s) and the participants, a brief warm up followed by brief tutorials on the particular challenges for that course. The courses themselves are broken into stages (usually 3) so as to not be too overwhelming to participants. Rest assured, no one will feel pressured to anything they don't want to do and specific elements can be skipped, should a participant wish.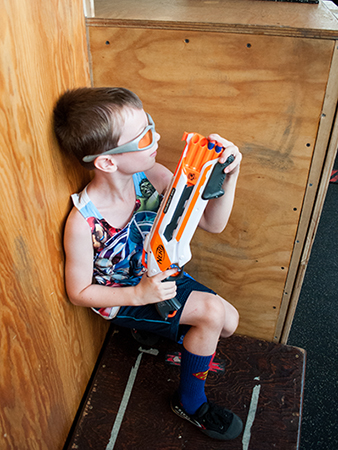 Nerf War Arena!
Our Nerf War Parties are so much fun! You or your kids will have the most amazing experience no one else can provide – a bonafide Nerf War Arena! Our arena is fully climbable and features bunkers, sniper spots, and caves. Eye protection, darts, and equipment is provided, however participants are allowed to bring their own eye protection and their favorite blasters, should they desire.
These parties normally begin with a quick introduction of the instructor(s) and the participants, a brief warm up followed by a safety brief on how to properly and safely navigate the arena during game play. Game modes can be changed by request, but the most common requested ones are:
Team Death Match
Capture the Flag
VIP
Humans vs. Zombies
And more!
Aside from being the most fun around, you or your kids will also be getting in quite the workout!
Learn Parkour from True Experts!
Our Parkour Workshops offer all the best of our top-rated curriculum plus the added benefit of getting it custom tailored to you and your friends! We were the first Parkour Gym in the State of New York and we remain the best in the region! These parties/workshops can be geared more towards a fun-sharing experience to a full-on educational seminar.
These parties/workshops typically begin with a quick introduction of the instructor(s) and the participants, a brief overview of the gym followed by a quick warm up, then we dive into technique drills and exercises all geared to give you and your friends the knowledge you need to begin your journey on becoming an awesome traceur/ninja! We sometimes incorporate games by request such as:
Tag, Lava Tag, Zombie Tag, Capture the Flag, Ninja Stealth Tag, and so many more!
My son's birthday couldn't have been more amazing! We've had our own nerf wars in our house, but inviting all of his friends for battles at RocPK was truly a unique experience I haven't found anywhere else. The staff was friendly and polite and everyone left saying they had an incredible time. Go RocPK!
Awesome birthday party!

Thanks Jonathan, my daughter and her friends had a great time.