Affordable Prices for Any Budget
Enroll whenever you want!
Our system is called Open Enrollment – meaning you can enroll whenever it works best for your schedule!
There are no registration deadlines and we won't lock you in to any 6 or 8 week sessions. You can come as frequent or as infrequent as you wish!
Our promise to you: No contracts… Ever!
Whether you're dropping in to a class for $20 or signing up for our All Access Membership Plan, you will not be asked to sign any annual contract. There are no registration or termination fees. There are no commissions either, so none of our staff will try to coerce you to buy anything that won't work best for you!
10 Class Pack
Can be shared by family members
12 month expiration
$200 Value
Class Packages
Best for inflexible schedules

Can be shared between family members
Open Gym Membership
Unlimited Open Gym
Half Off Classes
Ages 18+ Only
$240 Value
5x/month Membership
5 Classes/month
Unlimited Open Gym
Discounted Events
Free Strength and Mobility Classes
$450+ Value
All Access Membership
Unlimited Classes
Unlimited Open Gym
Free Events
Free Strength and Mobility Classes
$600+ Value
Monthly Plans – Best Value!
25% discount for active service members and college students
Family Memberships!
| Membership Option | 1st Person | 2nd Person | 3rd Person | 4th+ Persons |
| --- | --- | --- | --- | --- |
| 5x/Month | $90 | $67.50 | $45 | $22.50 |
| All Access | $120 | $90 | $60 | $30 |
| Discount | 0% | 25% | 50% | 75% |
Our Family Membership option not only gives our incredible families the freedom to choose which plan is best for each family member, it also frees up a lot of space in your wallet, too!
Movement is best as a shared experience. Kids see their parents move and work through challenge and it inspires them to not become frustrated when times get hard. Parents see their kids having fun by trying new wacky things and become enlightened to the fact that it's okay to be or do silly things – they find their playful instinct that so many of us lose as we age.
Each individual family member gets to choose the best plan for them – we won't force you to be on a higher tier, more expensive plan that your busy schedule won't allow you to use, just because another family member wants it.
The kids can be on 8x/month or All Access because they like to come to class several times per week while the parents can be on the cheaper, 5x/month plans – or vice versa!
Our gym's mission is to provide a welcoming, safe, and clean play space while also offering services and products that are not only top notch and educational, but also accessible to any budget. We do not believe in forcing people to sign contracts with hidden sign up fees or early termination fees.
Our doors have stayed open for 8+ years not because we force our members to continue to pay through contracts, but because our program is just that good!
There are a few important rules/restrictions to note about these plans. Please read them carefully:
All Family Memberships will be set to auto-renew on the 1st of every month. RocPK is unable to change this auto-renew date
RocPK Staff must set up your plans for you to ensure accuracy. You can do this via phone call, email, or click the button below
Higher tier plans will be set up first (e.g. All Access Plans will be set up before 8x/month plans, which will be set up before 5x/month plans)
Memberships can be started or added at any time during the month and our system will prorate the monthly charge to the next 1st of the month
Individual memberships can be upgraded or downgraded at any time during the month and will be prorated to the nest 1st of the month
A new Family Membership Plan must last at least 1 full billing cycle before being cancelled
There is no set up fee or early termination fee associated with this membership option
Loyalty Discounts!
RocPK Sustaining Member Tier
Unlike everyone else in the fitness industry, we don't operate by forcing you into annual contracts. We operate by winning your loyalty with our gold standard quality and service each and every month!
As a thanks, anyone who chooses to keep their monthly memberships recurring consistently will automatically receive discounts off their monthly payments.
Best Value, Speedy Progress
Memberships are the most popular option not just because of their value, but also because they give you the access you need to see quick progress out of your investment.
Unlimited Open Gym Access means you'll get to put in the time your body requires to practice, train, and refine all the mechanics and skills you've learned in class.
The minimum exposure most students need is 1 training session per week to see progress. With Open Gym Access, you can increase that exposure to up to 5 training sessions per week on our Membership Plans!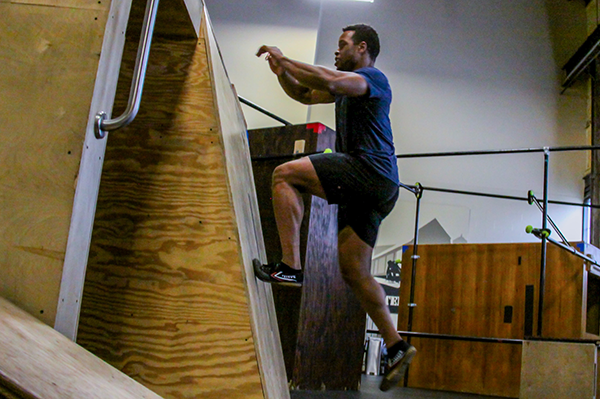 Yes, absolutely!
All you need to do is create an account on our registration page and then find the next class that fits your schedule. When you go to register for it, hit the "Free Trial" option and you won't be charged!
Yes.
Our system is called Open Enrollment, which means that there are no 6 or 8-week sessions that you have to commit to in order to participate! You can start whenever you want and you can come as often or as infrequent as you wish.
Anything comfortable that you don't mind getting sweaty in! If you're in the market for shoes, we have a couple different brands we recommend for best practice, but any pre-cleaned indoor shoes (that do not have plastic on the arch) will work.
Yes, we require everyone to pre-enroll before coming to class.
This is an important process for us because our instructors create unique curriculum for every class they teach. Pre-enrolling allows your instructor to know to expect you and they'll tailor the curriculum to best suit your needs.
Also, our Tiny Movers Classes are capped at 8 kids, Kids Classes are capped at 9 kids, and Youth and Adult Classes are capped at 10 students. If all slots have been taken by pre-enrolled students, we won't be able to accept walk ins.
Yes.
As long as your account has an applicable pass for the service you're enrolling for, you'll be allowed to join the wait list. We very frequently enroll from our wait lists, so don't feel down right away! If a space opens up, you'll get an email notification and we'll also shoot you a quick phone call to let you know that a space is available.
Yes.
In order for our Open Enrollment system to work fairly for all our members, we have a 24 hour cancellation policy. If you cancel outside of 24 hours, your pass will be automatically stored on your account for future use. If you no show for a class that has open slots, your pass will also be automatically re-applied to your account for later use. If you no show for a full class, then it will assumed that you took a slot from another member who would have liked to join that class and your pass will be used as if you were there