Dear community members,
Only a small handful of you have been around long enough to remember our first registration system, Mindbody, and all the complications that came with it. For the rest of you, your relationship with us has also required your relationship with our registration software, Frontdesk (more recently known as Pike 13). This relationship has lasted almost 5 years and began out of a request from our members for a system that was simpler to use and could more easily be integrated with the way they wished to use the system – mainly through smartphones.
The simplicity and ease of access with its responsive design came with limitations, which we accepted under the promise of its developers that updates would continue to roll out to expand its abilities and fix its bugs. We are writing now to inform you that Pike 13 has stagnated for too long and this month, we will be making the switch to a new company.
What's going to change?
The new software is not yet live. We're hoping to flip the switch either this week or next week, but we wanted to give you a heads up. Here's a brief overview of everything that will change:
Zen Planner (new software) is fully embedded into our www.rocpk.com website (no more remembering different url's!)
Interactive schedule that lets you more easily find the services you're looking for
Better level system and skill tracking for all our members
Simpler check out procedures
Fully functioning Google Play Store and Apple App Store App
Rollover visits can no longer be a benefit of membership (new software doesn't have it as a feature)
Memberships can no longer be shared (memberships must be bought separately for each person on a family account, but the prices are remaining the same)
Class packages can still be shared among family members, but this must be manually done by RocPK Staff
For everyone who currently has an active membership or a pass or plan, you should expect to just log in to the new system and see that nothing is different except for the Zen Planner name. Billing information will remain the same, prices remain the same, and expiration dates for previous purchases will remain the same.
What you need to do
Nothing yet.
Our TENTATIVE flip date is scheduled for this Thursday, February 1st, but there's still some back end work that may push us back. When the change does happen, you will receive an email from Zen Planner with an automatically generated password for your new account. All you need to do is login using that password, change your password, and double check that all of our data transferred from Pike 13 correctly.
Feel free to continue reading for more specific details on these changes and to see how cool the new software is!
Meet Zen Planner
We settled on Zen Planner after months of searching and several demos from a handful of other companies in the industry because of its features, its ease of use for our customers, and the reputation of the company. It first sprouted out to serve the needs of martial arts studios which lends itself nicely for our industry as well. The dev team is not only attentive, but responsive, and we're excited to see where they go in the future.
Details on all these Changes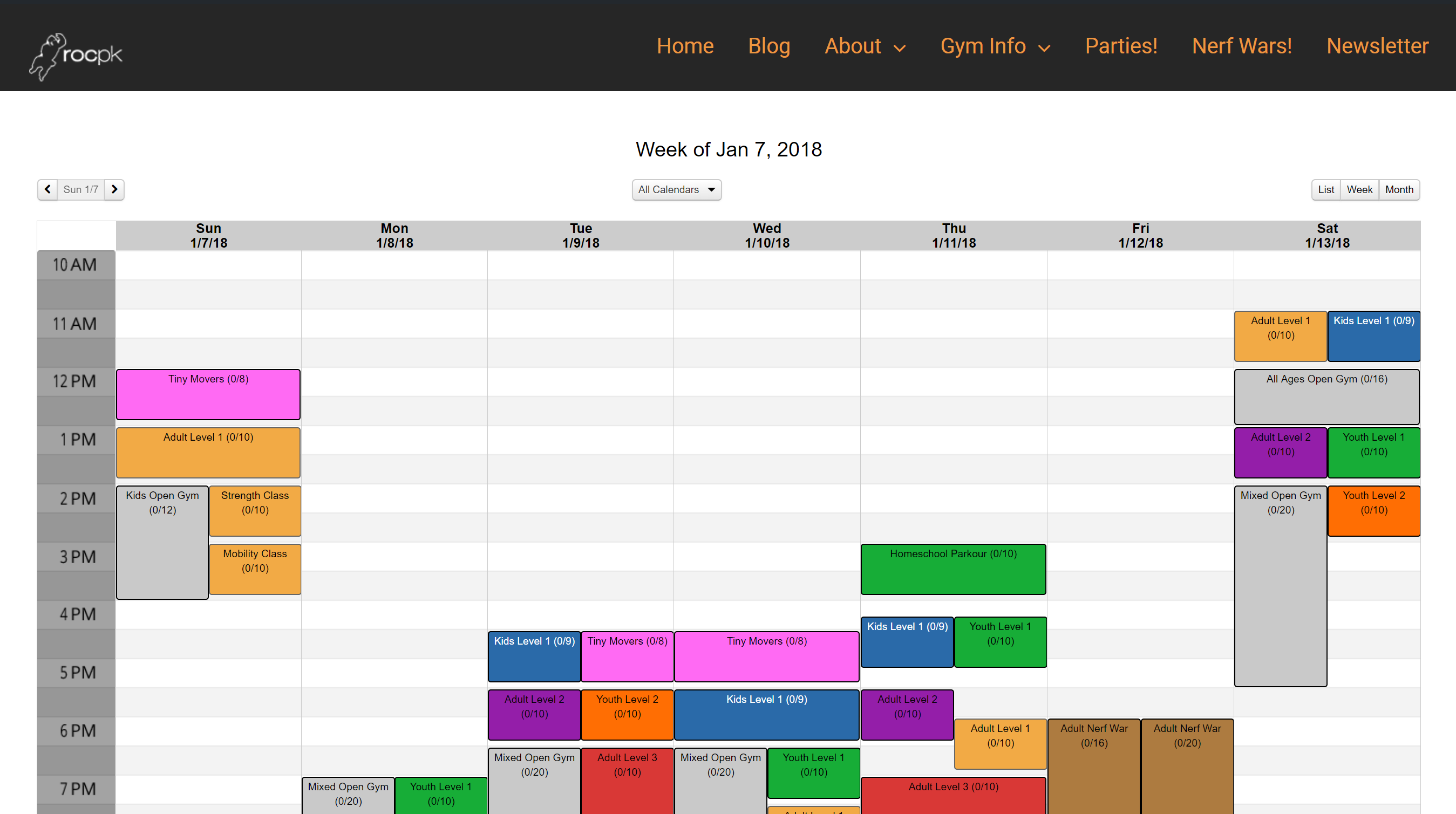 Fully embedded into our website
Unlike Pike 13 which required you, our members, to leave our website or bookmark their url to be able to login to your account to enroll for classes or purchase classes, Zen Planner is completely embeddable into our www.rochesterparkour.com website. The schedule is interactive and you can pre-enroll for classes or login to your account directly from our website without ever leaving our url!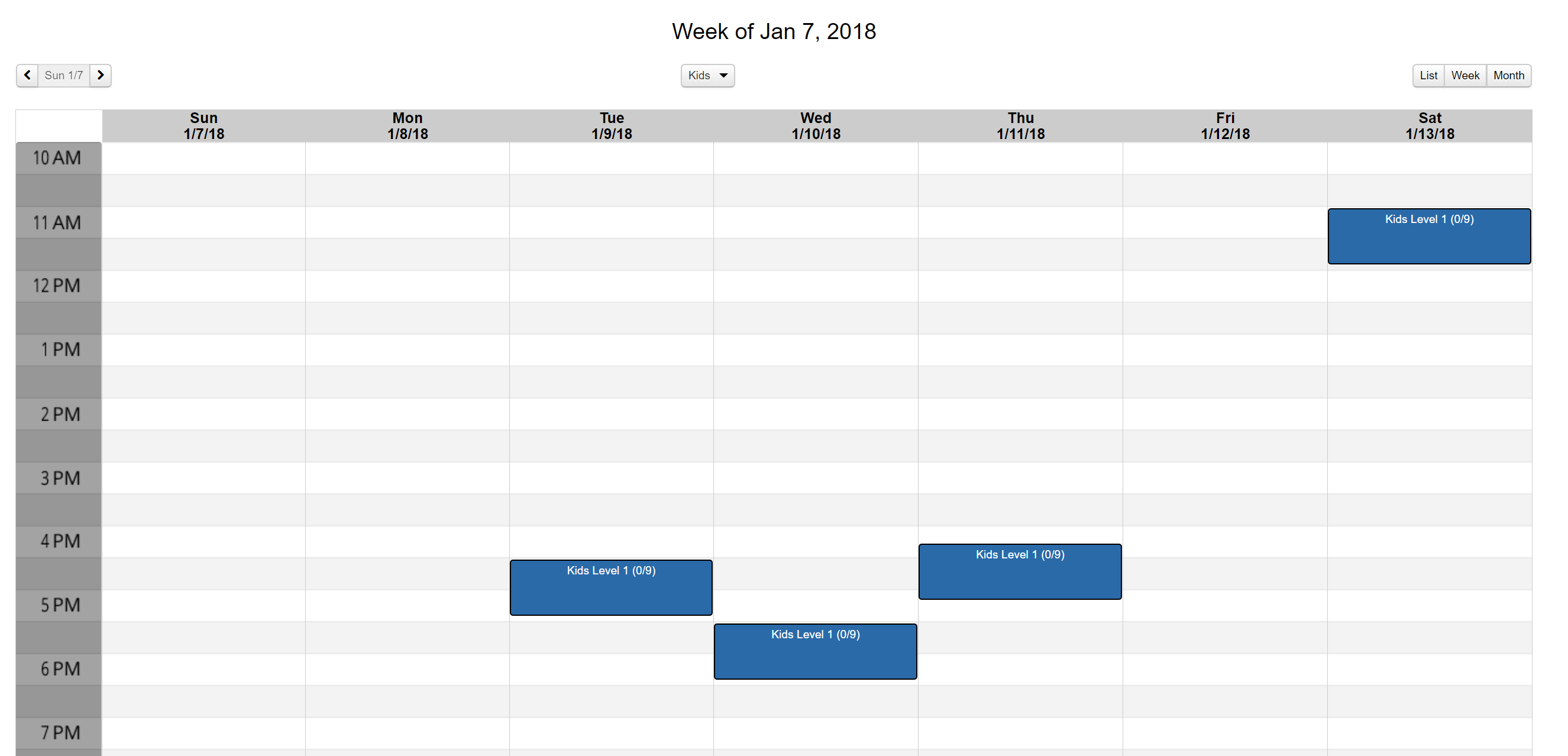 Interactive schedule view
We offer a lot of different classes, services, and events over the course of a week and it can sometimes be overwhelming to try and find the right class you're looking for to pre-enroll into. Zen Planner makes this easier by allowing you to filter out categories of classes that you're not interested in seeing. For example, if you were only interested in enrolling your 7 year old, you can filter out all other services except for the Kids Classes to more easily see when the classes are offered and better locate the exact one you want.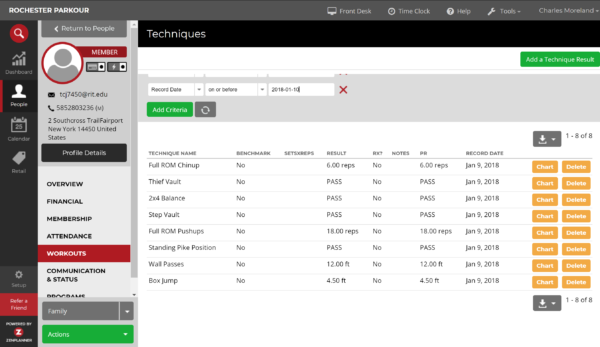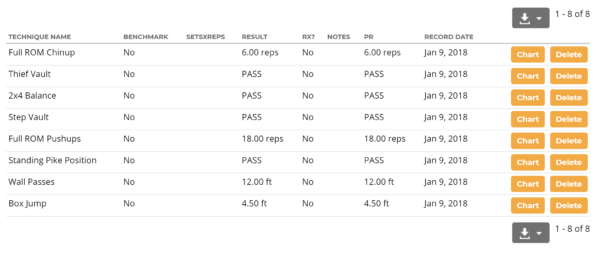 Better Level System Structure
Up until now, for our Youth and Adult members, we've needed to have anyone who would like to move up to Level 2 classes prove that they have learned or acquired the necessary skills and strength required for those classes by submitting a video. Given that Zen Planner grew out of the martial arts world, they have developed a back end system of skills and techniques that can be updated on every student's profile by their instructors as they see the student make progress. When that student enrolls into a class with a different instructor, the instructor can simply click on their profile and see what the student knows already and can plan their curriculum accordingly with full clarity.
This also means that we will be removing the requirement of our current students to submit level test videos in order to move up. Students can either ask their instructor for an update on their progress or login to their account and look at their progress themselves. Level Test Video Submissions will remain in effect only for new incoming students who believe that their talents warrant them instant access into the Level 2 classes.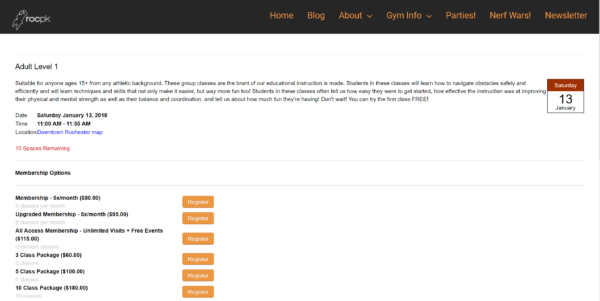 Simpler Checkout Procedures
Compared to the store in Pike 13, Zen Planner makes it significantly easier for our clients to understand what package or drop in passes are options for the available class service they're trying to enroll into. Once again, this can all take place on our website every time you go to enroll into a class.
Zen Planner Smartphone App
Pike 13 was a separate url that could only be accessed by visiting it through a desktop or mobile browser. If you didn't know the url, you needed to travel to our website first, then click through to get to the Pike 13 site. The mobile browser, while revolutionary when we saw it in 2013, is now a pain in the butt. Features and buttons periodically disappear when viewed on a mobile browser and requires an excessive amount of button clicking to do something as simple as enroll yourself or your son or daughter into a class.
Zen Planner has an extremely simple app, found on the Google Play Store and the Apple App Store, that simply requires you to sign in with your account email and your (soon to be created) account password. From there, you can easily enroll for classes, update your profile information, purchase items, and create new accounts for family members.
Everything is a compromise
If you've ever heard the phrase, "Cheap. Fast. High Quality. Choose two." then you know that the perfect solution we're looking for, either doesn't exist yet, or may never exist. This is still true with our decision to move to Zen Planner and we'd like you all to be aware of certain things that will need to change about some of our policies and procedures and understand why.
Rollover visits for Memberships: We're listing this one first because it's the one we're most upset about losing. Currently, Zen Planner does not have a system in place to automatically roll over unused visits into the next month. We've created a feature request ticket for this feature with them and have pleaded our case as to why this is an important tool for businesses, but there is no guarantee that they will enable this feature or that they will ever begin development on it. Given our great number of people on memberships, it would be unwise for us to initiate a manual system to keep this feature, so we are regretfully going to remove this feature as a benefit of membership.
Despite this change, please remember that our facility has created our systems and policies specifically in contrast to the way big box gyms have – hiding behind mountains of paperwork, contracts, and hidden fees. No matter who you are, all RocPK clients can enter membership without signing a contract, without a registration fee, and can also cancel their membership at any time prior to their next billing date for no cancellation fee. If losing roll over visits is important enough for you to drop your monthly membership, please let us know and we can find the next best solution for you and your family.
No Shared Memberships: We're conflicted by this change partly because the feature seems like it would be very useful, but it's also been the source for a number of back end issues with account members who accidentally purchased memberships with the wrong people linked, or clients who purchased multiple memberships at full cost because they didn't know to look harder at the confusing store system to see that family memberships came at a discount.
Zen Planner does not have this system in place, meaning it will both no longer be a feature nor will it be a nuisance to our members. Discounted add on memberships for families will now be listed as separate membership offerings. Additionally, Zen Planner does not have a system in place like we've had in the past, where some purchasable items will only be shown to current members. Rather than remove this benefit, we've decided to keep these membership offerings publicly available so you all can purchase them for your family members at any time and at your own convenience. This also means that it will be shown to people who do not currently have a membership plan. We've created some triggers in the back end of the system to alert us whenever someone purchases these add on memberships to not only double check your work and make sure the membership is set up correctly, but to also ensure that no one is scamming our system and getting a discount reserved for our amazing families.
Manually Shared Class Packages: This change is not as direct as the shared membership plans are. Instead, class packages can continue to be shared among family members, however, the linked accounts must be completed by a staff member. To help ease this process, we've created an automation whenever a class package is purchased to alert you all that if you would like to have multiple family members share one class package, to reply to that email with the names of the linked accounts, and one of our staff members will create the links as soon as possible.
When does this change happen?
Nicole and Charles have been working overtime on this change since mid-November! They've manually checked every one of our 5,000+ accounts in our database to try and make this transition as seamless as possible for you all. Ideally, when we flip the switch, all you will need to do is open the email that Zen Planner will send you (not sent yet), and log into your account with their auto-generated password for the first time, and then change your password. Downloading the Zen Planner app is not required (although it's so amazingly easy why wouldn't you!?). We've also worked diligently with our payment processors to securely transfer (through encrypted portals) everyone's payment information. Again, ideally, all you have to do is log into your new account with Zen Planner and see that you do not have to update anything!
Our TENTATIVE flip date is scheduled for THURSDAY, FEBRUARY 1ST!
There's still some things we need to fine tune until then that may push this date back. We'll keep everyone updated once we have a confirmed flip date.
PLEASE NOTE!
5,000+ accounts is CRAZY! It's simultaneously so incredible to see that we've serviced that many people in our short 7 year life span and also super overwhelming when you look at 5,000+ lines in a spreadsheet filled with numbers and letters! We've really worked hard to ensure that no one's account got mixed up in the data transfer, but it is possible. Once you log in to your account, please look through your profile and double check everything in it to make sure it looks correct. If something is out of place, shoot us an email to let us know and we'll take care of it as quickly as we can to ensure nothing affects your ability to pre-enroll for the classes you want.